Welcome to the new-look Ultimate Shining Force 2 Guide!
Shining Force 2 is classic tactical RPG released by Sega for the Genesis/Mega Drive console in the mid 90's and developed by Sonic Co, who went on to become Camelot Software Planning. It is part of a long line of 'Shining series' games, many of which have never seen a release in the West.
Established in May of 1996, The Ultimate Shining Force 2 Guide has been providing Shining fans with all the information they could need for more than 20 years!
The same great Shining content, with a shiny new look!
July 15th 2017
It's been almost 7 years since I last updated this site, and with a renewed interest in the Shining series now the Sega Forever project has been announced, I thought it would be helpful to update the site with a clean, modern look and a mobile-friendly design.
We've still got everything a Shining Force 2 fan could need to know and searching the site is now easier than ever. There's even a handy site map too.
I hope you like the new look!
Moogie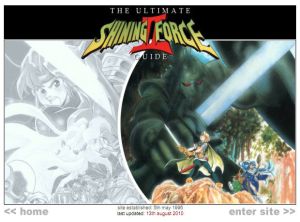 The old-style Ultimate Shining Force II Guide
August 2001-July 2017
If you can't find what you need to know here then it's unlikely to be found elsewhere… but you could always try Shining Force Central.